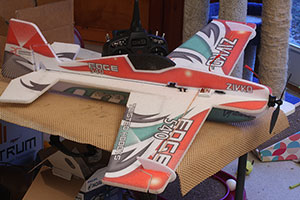 The Twisted Hobby's 32" EPP Edge 540 is easy to build, easy to fly and easy to fix if you do manage to break it.
Click image to enlarge
Twisted Hobby's 32" EPP Edge 540 GH
Backyard Practice/Fun Machine
Text, photos and video by Tom Hintz
Posted – 12-29-2016
Part of having the RC flying disease is wanting to fly when going to the flying field is not possible. Flying RC as part of my fight against Alzheimer's means flying more frequently is better because of the sheer repetitions that help keep things fresher in my not-so-sharp brain. Complicating this for me is that zooming my giant scale planes around the neighborhood would probably elicit complaints so I needed to find something that was of a more appropriate size, quiet but fun to fly.
There are a bunch of planes that loosely fit this criterion but Twisted Hobby's, one of the originators of this ultra-light foamy category always seems to get kudos from the people flying their stuff. I have also see many Twisted Hobby's planes at our flying field so I just went to the Twisted Hobby's website and skipped the make-believe "shopping" in favor of getting the right plane first.
The Basics
I have long been partial to the Edge 540 design and while that probably has little to do with how this foamy flies I went with it anyway. The Twisted Hobby's 32" EPP Edge 540 is made from the nearly bullet proof EPP foam that allows a surprising amount of crashing before you start repairing. It has a wingspan of 32", is 31" long and has an all-up weight of 7.25oz including what they call "heavy duty" landing gear of which there is no such thing in RC aircraft. As I always do with these little foamies the landing gear your stayed in the box in favor of belly-flop landings or simply snatching it out of the air with my hand.
The Build
All of the pieces are cleanly die cut (left) and everything fit very well. The integral hinges have to be folded back onto the non-moving portion and weighted (right) for a couple hours or so to limber up the hinge. Don't skip this step!
Click images to enlarge
As can be expected with a profile foamy the construction is very straight forward. Instructions are in a PDF file and almost always cover a whole group of similarly sized planes because aside from minor shape and color differences the kits are nearly identical. Traditionally, planes like this have been constructed using the very Goop-like Welder Adhesive that is messy, slow-setting and tends to yellow as it ages. Hobby King was pushing bottles of Beacon Foam Tac for this type of model building so I got a bottle. Now with one build under my belt using the Beacon Foam Tac I find it to work fine but only marginally different than the Welders glue. In time, we will see if it yellows, degrades or has any long-term bad habits.
Hinges on the Twisted Hobby's 32" Edge 540 are integral and consist of beveled thin sections in the foam. The instructions call for bending the ailerons, elevators and rudder back onto the surface to which they are attached and weight it down in that position for at least an hour. Most people I know let the control surfaces "cook" in the folded over mode overnight. Something about the EPP foam material makes the control surfaces work much easier after this weighted preparation. When you see how tiny the servos are, "loosening" the hinge point like this makes perfect sense.
All of the Twisted Hobby's 32" Edge 540 parts are die cut with a high degree of precision. Everything fits as it should so your main concern is keeping everything square until the glue sets up.
The Twisted Hobby's 32" Edge 540 comes with all of the needed linkages and control horns, now made from plastic as opposed to very thin, super weak plywood that came with some early kits like this several years ago. There is nothing heavy about the current linkages but they are plenty strong and when installed per the instructions provide solid control with plenty of surface throw.
Power Combo
The electronics for this plane (left) are small and light. I can buy 6 of the recommended 450mAh LiPo's (right) for the price of on 6S needed to fly larger electric planes.
Click images to enlarge
Twisted Hobby's sells what they call a Power Combo that includes the motor and ESC as the name suggests but also the servos. You do have an option or two in Power Combos but I went with the good "30-32" Standard Mono & Pitts "CS DMG" version. This package includes a Crack Series 26g 1450kv Motor, Crack Series 12A ESC, two CS-70DMG Digital Servos, one CS-90DMG Digital Servo (ailerons) and a 9x4.7 Tuff Prop. I added a 6Ch DSM2 CRACK-SERIES 2.4Ghz Spectrum/JR receiver and three Lipo Crack Series 2S 450mah 25~50C K2 Series batteries to augment the three identical batteries I already had from a similar plane that I was finally able to beat into submission.
In the Yard
The Twisted Hobby's 32" EPP Edge 540 makes a great practice/trainer for confined areas like our yards. The small size and super lightweight make this a natural for keeping your stick fingers acquainted with the radio without having to go find a big open area in which to fly.
Other factors that make the Twisted Hobby's 32" EPP Edge 540 great for back yard flying is the lack of landing gear, as most of us assemble it. For those with a paved area on which to fly the Twisted Hobby's 32" EPP Edge 540 includes landing gear. Also, the Twisted Hobby's 32" EPP Edge 540 is remarkably tough. Combine that durability with the mostly grass surface to land on or crash into and the Twisted Hobby's 32" EPP Edge 540 seldom requires more than a couple minutes of repair.
While the Twisted Hobby's 32" EPP Edge 540 certainly has a different feel than our bigger models it responds to all the same control inputs. That means you can practice different maneuvers such as hovers, "harrier" flight and virtually anything else you want to do with a larger plane. The larger lanes need a totally different application of power but all the stick movements remain the same. Learning how to fly the tail in a hover is just as effective in the yard with the Twisted Hobby's 32" EPP Edge 540 as it is at the flying field with a giant scale plane.
The motor in the power combo looks tiny (left) but has the punch the Twisted Hobby's 32" EPP Edge 540 needs and then some. Years ago these planes came with very light wooden control horns and supports that failed easily. This Twisted Hobby's 32" EPP Edge 540has plastic hors and supports (right) that while much stronger remain very light.
Click images to enlarge
Another big factor is the cost of flying in the yard. The 450mAh battery packs the Twisted Hobby's 32" EPP Edge 540 uses cost me right at $10 each. That means I can have six of the 450mAh packs for less than the cost of a 6S pack that many larger electric planes use. Naturally, the Twisted Hobby's 32" EPP Edge 540 can be flown virtually any time because there is no sound like is generated by even small gas or glow engines. You can fly all you want and unless your neighbors happen to see the plane in the air they will have no idea you are flying.
Conclusions
When I ordered my Twisted Hobby's 32" EPP Edge 540 I also ordered the good power package, tiny receiver, glue, extra props and three extra batteries all at once. Most of us will not have the tiny components this type of plane needs unless we had one before. My total was $261.60 to my door (11-19-2016). I know that sounds high but for an all up airplane that is this much fun and this durable, plus the extra props and batteries I think this is a decent price. I have spent far more money on way less fun.
The Twisted Hobby's 32" EPP Edge 540 is a great in-yard trainer that can let you get some stick time in when going to the flying field just isn't possible. Despite its super lightweight the Twisted Hobby's 32" EPP Edge 540 responds to all the same controls as our larger planes so you can practice the more airframe dangerous maneuvers and spare yourself the tension-filled near ground experiences with the higher dollar balsa models.
Of course, if you just want to have a bunch of fun in the yard, the Twisted Hobby's 32" EPP Edge 540 handles that as well.
Visit the Twisted Hobby's 32" EPP Edge 540 web page – Click Here

Have a comment on this Review? –Email Me!