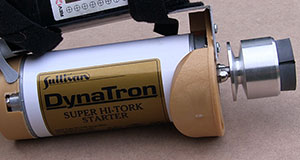 Sullivan starters have always been tough and powerful. I never thought of buying anything else.
Click image to enlarge
Sullivan Dynatron Starter
Make engine starting easier and portable
Text, photos and video by Tom Hintz
Posted – 9-2-2015
Since I went to gas engines I have been blissfully starting them by hand. Then after MANY hours of flight a carburetor decided to quit pumping (we think) and my super dependable DLE40 Twin became hard to start. Add this to the weekend before when a brand new engine was giving us fits, most due to throttle position, and an electric starter moved high on my must have list. I am 66 and not nearly as durable as I used to be.
The Basics
I chose the Sullivan Dynatron Starter (#S603) because even 26 years ago when I flew RC they were the best there is and after looking around a little now I could find nothing that was threatening Sullivan's' superiority.
Sullivan claims the Dynatron Starter is the strongest 2.5"diameter starter in its class and I am fully ready to accept that claim after having it spin my 40cc engine with authority. Sullivan rates this starter for engine up to 40cc and that might be conservative but a good limit to observe for a long service life.
Sullivan adds a high end machined aluminum drive cone (left) with a belt groove already in it. If you have a specialty spinner or prop hub Sullivan likely has an accessory insert (right) to fit.
Click images to enlarge
You can use 12VDC or 24VDC power to drive the Sullivan Dynatron Starter and they include a diagram to show you how to use a pair of 12VDC motorcycle batteries to generate a very strong 24 volts. The Sullivan Dynatron Starter uses a maximum 80 amps but develops 340 in-oz (240 N-cm) of stall torque on 12VDC and 680 in-oz (480 N-cm) at 24VDC. Maximum no load RPM is 4800 on 12VDC and 9600 on 24VDC.
The Sullivan Dynatron Starter comes with a nicely machined aluminum drive cone featuring a pulley groove for that type of application. The Sullivan Dynatron Starter feels very stout in the hand because the main body is machined from steel for "no fooling around" reliability. The weight would be an issue if we needed to carry the Sullivan Dynatron Starter around all day. And you know that right now there is at least one person out there saying, "You don't carry it around all day?" If the engine does not start when you put the Sullivan Dynatron Starter to it, set the starter down and find the problem with the engine.
Making It Self Contained
Though the Sullivan Dynatron Starter comes with a long cord with clamps for attaching to an automotive or motorcycle battery lots of people are making these starters more portable. I don't want to be lugging a big battery to the field just in case so decided to run my Sullivan Dynatron Starter on a 6S, 22V, 3700 mAh LiPo that I already had. At first I was a little concerned that this battery might not support more than a few starts but that worry turned out to be unfounded in a big way. At this writing I am still unsure of how long the LiPo will run the Sullivan Dynatron Starter before needing recharging. I spent a good part of a morning fighting with a 40cc engine what turned out to have a carb in need of rebuilding. I had put the Sullivan Dynatron Starter through lots of starts but when I checked the battery it showed that it had 85% of its capacity remaining. I love it when one of my plans actually works out.
Conclusions
I wanted to make the Sullivan Dynatron Starter more portable so added a LiPo battery (left) that I already had. At the field (right) that battery proved to be plenty strong with way more capacity than I needed in a day.
Click images to enlarge
Sullivan Dynatron Starters have always made flying RC easier but with the modern battery packs we can add a bunch of portability to them. This is a tough, powerful starter that is built to last a long time. Just picking it up tells you that there is lots of metal inside along with a tough steel case. Sullivan apparently does not compromise much when designing and building their starters.
The Sullivan Dynatron Starter has plenty of power to spin my 40cc engine. The design of the drive cone and insert insure that it gets a good grip on the spinner nut I used on my Cub even though I thought it might be too small for the starter. The speed with which the Sullivan Dynatron Starter spins the engine means it is going to start right then or there is a big problem with the motor.
The Sullivan Dynatron Starter has a street price hovering around $100.00 (9-2-2015) at most outlets and is well worth the money in my opinion. The effort and time it saves at the field is worth every nickel of the purchase price. The construction of the Sullivan Dynatron Starter means it will be around for a long time which makes its "cost per use" ridiculously low, something people in the RC community are not accustomed to.
The next time you find yourself with a balky glow or gas engine, remember this review of the Sullivan Dynatron Starter and explain to yourself why you do not have one. I did just that and could not justify going to the flying field again without the Sullivan Dynatron Starter which I then bought.
Have a comment on this Review/How-To? –Email Me!