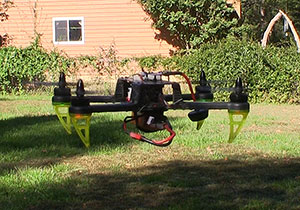 Getting my Spedix 250 flying was just the first step, then I had to add the FPV gear and we look at that in this review.
Click image to enlarge
First Person View for my Spedix S250 Quadcopter
Installing the "eyes" for 250 Quad FPV Racing
Text, photos and video by Tom Hintz
Posted – 10-21-2015
When I bought my Spedix S250 Quadcopter the plan was to add FPV (first person view) equipment to eventually enter the rapidly expanding world of FPV quad racing. As I did with the quad itself, I watched as others dealt with problems getting the FPV equipment to work properly. As is always the case, buy cheap and you better have low expectations – and a good source for replacement parts. I wanted to avoid the buy cheap/then buy better route so I armed my Spedix S250 Quadcopter with pieces that were favored by more users on forums and my flying field.
The Camera
I chose the Fat Shark PilotHD V2 720p Camera (# FSV1205) for my Spedix S250 Quadcopter because it is well regarded by fpv users and because it offers recording in addition to sending video back to my goggles. An extra source for video is always a good thing in my business.
The Fat Shark PilotHD Camera records 720p video at 30 HD frames per second and outputs that video in NTSC format. It boasts a 120° field of view lens which makes flying FPV easier because you can see more. The built-in DVD uses a MicroSD Memory Card (up to 32 gb) to store the video. This camera is also easy on the battery power using only 250 mA at 5 V.
The Fat Shark PilotHD Camera (left) fits in the Spedix front plate, secured with a plastic tie. The MicroSD memory card (right) can be installed through the top of the frame when the camera is installed.
Click images to enlarge
The Fat Shark PilotHD Camera has a metal housing (can be removed) that protects it from lots of the "bumps" and shields the cam from interference but there is a small weight penalty. The case is 1.1 x 1 x 0.9" / 27 x 25 x 23 mm and with the case weighs 1.2 oz / 33 G and without the case just 0.4 oz / 11 G.
Mounting the Fat Shark PilotHD Camera seemed difficult at first because it does not come with a dedicated mount. The Spedix S250 Quadcopter comes with a camera mount plate that fits in the front of the frame and by adding a simple tie wrap I was able to get the Fat Shark PilotHD Camera mounted securely.
Another thing I liked is that you can adjust the Fat Shark PilotHD Camera by loosening the ring around the base of the lens, turning the lens to sharpen the focus for your eye then tighten the locking ring down again. I have to fly without my glasses but that is far less of an issue than I expected, especially being able to focus he camera.
Street price for the Fat Shark PilotHD Camera is $59.99 (10-21-2015) which is not bad, especially with the record function.
Video Transmitter
We have to send the video signal from the Fat Shark PilotHD Camera to my goggles and for that job I chose the Lumenier TX5G6R Mini 600mW 5.8GHz FPV Transmitter with Raceband. Once again my decision to buy this transmitter was based largely on positive comments I had seen in forums and the overall regard for Lumenier products.
The Lumenier TX5G6R Mini 600mW 5.8GHz 32CH FPV video transmitter offers longer range than many but my main concern is maintaining a strong signal with several other quads in operation at the same time. It also provides a 5v output to power many FPV cameras. The Lumenier TX5G6R has a stout 600mW output and with the selection of 32 channels including the new Raceband frequencies I am hoping that this setup lets me concentrate on not hitting things rather than maintaining a signal. The Lumenier TX5G6R is also compatible with FatShark and ImmersionRC receivers.
The Lumenier TX5G6R Mini 600mW 5.8GHz FPV Transmitter with Raceband (left) gives me all of the channel versatility I'll need on race day. The button and LED display (right) make changing channels quick and easy.
Click images to enlarge
I moved the Lumenier TX5G6R to the middle of my Spedix S250 Quadcopter and bent the antenna downwards to protect it more but worried about signal strength. That turned out to be a non-issue as the Lumenier TX5G6R keeps pumping out a continuous, strong signal even when I fly around to the other side of our house. The Lumenier TX5G6R has a pushbutton and series of LEDs that make selecting a new channel easy.
The Lumenier TX5G6R has a frequency range of 5658-5925MHz with an open area transmitting distance rated at 2000 meters! Also, it has an on-board microphone and an SMA antenna connector. The Lumenier TX5G6R is compatible with Fatshark, ImmersionRC, Boscam, Foxtech and many other generic FPV receivers within the same frequency range.
The Lumenier TX5G6R has an attractive street price of just $49.99 (10-21-2015) which made my decision to go with this transmitter easy.
Antennas
Now that my Spedix S250 Quadcopter is equipped with a quality camera and transmitter all that remains is getting the signal to the goggles. For that I chose the ImmersionRC 5.8 GHz SpiroNET Antenna Set, again because of the solid reputation. In my research I noticed these antennas on lots of quads that performed very well and that made the reputation for quality and performance easier to believe.
The ImmersionRC 5.8 GHz SpiroNET Antenna Set uses the SMA connector and has a bendable cable which provides mounting options to get it out of harm's way as much as we can anyway. Add all this to a street price of just $39.99 (10-21-2015) for the set and adding these antennas was a no-brainer.
In the Air
The ImmersionRC 5.8 GHz SpiroNET Antenna Set (left) insures the connection between my quad and my headset. The round cover (right) hides the "mixer wire" antenna that gives me a solid signal in all attitudes.
Click images to enlarge
I have been flying my Spedix S250 Quadcopter with this FPV equipment frequently over the last few weeks and it has been trouble free all the way. The only issue I have had was a high speed crash into an iron bar planter that sheared the antenna end off of the original video transmitter. That was all on me and the impact way too big to expect a piece of electronics to take a dead on hit and survive.
Aside from that one "big one" I have hit everything else in the yard and at the field but the video signal keeps coming strong and clear. I can usually see clearly that I am now upside down in the weeds or something but the video is solid.
Something that surprises me yet is that I am seeing virtually no difference in battery usage over my 5 minute flights without any FPV gear. I am flying mainly my old 2200mA packs and they almost always show around 40% after the flight. I know that will go down while racing but the draw of the video equipment is much less than I anticipated.
If you are setting up a new quad you can do a lot worse than using this FPV equipment. I expect there is lots more out there that may be equally good and perform as well. I settled on this array of FPV gear and remain very happy with its performance and durability.
Have a comment on this Review? –Email Me!
Back to the Reviews List