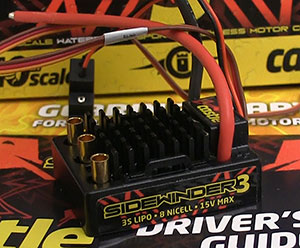 The Castle Sidewinder 3 is compact, tough and is loaded with capabilities you can employ if you want to.
Click image to enlarge
Castle Sidewinder 3 ESC
High powered simplicity
Text, photos and video by Tom Hintz
Posted – 7-5-2016
Castle Creations has a long-standing reputation for designing and manufacturing some of the best electronic solutions available for all segments of the RC world. When the ESC (electronic speed control) in my Helion Invictus 10MT gave up functioning I knew exactly where to go for a replacement/upgrade. I am far from an electronic whiz kid so the simplicity of the installation and use of Castle Creation products is not a small consideration.
Get What You Need
I go to the Castle Creations web site confident of finding exactly what I need without having to adapt a piece designed for another use or rather than technology straining to span more than one category. The Castle Sidewinder 3 was designed to maximize its efficiency in the hugely popular 10th-scale car and truck part of the RC world. It is compatible with the ultra-popular 2S to 3s LiPo batteries. The Castle Sidewinder 3 has a long list of capabilities including fully adjustable braking, traction control, programmable voltage cutoff and motor timing. I installed the Castle Sidewinder 3 in its basic configuration and let the AVC (active vehicle control) programming in my Spektrum DX4S control the output of the Castle Sidewinder 3 to afford me better control over what turned out to be a surprising increase in total power available in my Helion Invictus 10MT.
Because people running 10th-scale cars and trucks tend to have little regard for moisture-laden environments the Castle Sidewinder 3 is water proof. That does not mean you can run it submerged but close to it. My initial runs with the Castle Sidewinder 3 installed were in my back yard in the morning when the level of Carolina dew is especially impressive. Running my Helion Invictus 10MT with the body on effectively simulates running the Castle Sidewinder 3 through a car wash but it never missed a beat.
Actual Instructive Instructions
Another long-standing Castle Creations trait is including comprehensive instructions with their products that don't require a master technician to understand. In a world where instruction sheets that frequently contain horrendous translations that are more comical than they are helpful Castle takes the time to do it right. The writing is clean and understandable with content that actually applies to the product they are packaged with. Who would have thunk it!
Installation
You do have to solder your needed battery connector (left) on but by now you should be solder capable! The Castle Sidewinder 3 fit in my relatively tight chassis (right) without an issue.
Click images to enlarge
The Castle Sidewinder 3 comes with bare, pre-tinned battery wires ready for you to solder the plug you need in place. It also has three bullet connectors built into the case to accept motor wires terminated with matching (male) bullets you have to provide and solder on. I know some will be gnashing their teeth over having to solder anything but this is a core skill in the world of radio control so step it up and learn to solder! Your RC life will be better because of it.
The Castle Sidewinder 3 comes with a standard radio plug that slips into the throttle channel on my Spektrum SRS4210 receiver. This same plug is used to connect the Castle Sidewinder 3 to a computer if you want to access that level of setup. You do need the Castle adapter for a usb cable to do that.
Setup
I am using the Spectrum SRS4210 receiver which means that I only needed to calibrate the Castle Sidewinder 3 to ready it for use. That literally took seconds to accomplish. If you want to access more of the available features the instruction manual walks you through those procedures quickly.
You do have to be sure that none of the wires are in harm's way but after that you are done setting up the Castle Sidewinder 3. That really is all there is to it. After the setup you can literally forget about the Castle Sidewinder 3 and just enjoy running your car or truck.
In Use
One of the things I like about Castle products is their install it and forget it nature. That is the case with my Helion Invictus 10MT. After calibrating the Castle Sidewinder 3 in my truck I have not had to tweak anything else about the ESC. There are lots of features available within the Castle Sidewinder 3 but even if you use some of those, once they are set up initially the Castle Sidewinder 3 sort of fades to the background and does it's work dependably while you focus on driving and the radio system.
Castle has always been good with useful documentation (left) and he Castle Sidewinder 3 is no different. This ESC has a long list of capabilities (right) that you can use if you want to through easy programming.
Click images to enlarge
After installing the Castle Sidewinder 3 I did notice that the throttle trigger felt much more consistent and the application of power seemed far smoother than with the stock ESC. Braking is also much easier to employ manually with the trigger and there is no delay. Applying partial throttle to help the truck roll through corners is also easier to maintain with the Castle Sidewinder 3 because the power comes on predictably and consistently. It does not take a long time to develop a "feel" for how the trigger impacts overall lap times.
Something I did not expect was getting more run time from the same 3S, 2600mah battery packs I had been using with the stock ESC that came installed in the Helion Invictus 10MT. I had been getting 4 minutes from that size battery with the stock ESC with an average 25% of the batteries power left after the run. With the Castle Sidewinder 3 (same motor, gearing etc.) I can get 5 minutes of run time from the same pack and still see 29% of the packs capacity remaining after the run. That tells me that the Castle Sidewinder 3 is far more efficient in how it doles out the power.
Conclusions
The small overall size of the Castle Sidewinder 3 allows it to be installed in a huge range of cars and trucks. Plus, with a street price of just $68.00 (7-5-2016) the Castle Sidewinder 3 fits a much wider range of budgets as well. Factor in the tradition of quality manufacturing and high-end customer support and the Castle Sidewinder 3 is an even better bargain. If you like products that you can install in your car or truck and then focus on having fun, products from Castle Creations like their Sidewinder 3 speed controller should always be at the top of your must see list.
Video Tour

Getting my Invictus to broad slide a corner is not easy and the Castle Sidewinder 3 pushes so much power to the wheels it is hard to keep on the ground!
Click image to enlarge
Visit the Castle Sidewinder 3 web page – Click Here

Have a comment on this Review? –Email Me