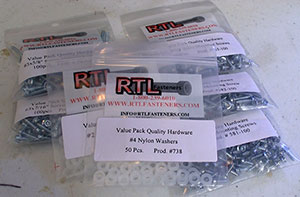 Get used to buying high end fasteners at great prices from RTL, these guys are here to stay!
Click image to enlarge
RTL Servo Mounting Screw Kit
Easy to use, extra secure
Text, photos and video by Tom Hintz
Posted – 12-1-2016
I have been a fan of these socket head servo mounting screws for years. They are much easier to use than those dopey Phillips-head pierces of %$#$%#@ that have come with servos about as long as there have been servos. The fact is the socket head servo screws are just far easier to use and they work better on top of that. The deep threads on the servo screws hold better in a wider range of materials and the fine, sharp point means you seldom need a pilot hole. The servo screws start themselves with surprisingly little pressure. Plus, the socket head style screws are great for lots of other holding tasks in our planes.
Now, the folks at RTL Fasteners offer one of their money-saving assortments that give you plenty of what you need to build several aircraft without having to wait on a bag of screws to show up. Plus, these assortments from RTL save big chunks of our RC budgets as compared to what simple screws cost us locally.
The #5745 RTL Servo Mounting Screw Kit
This selection of screws gives you all of the most popular sizes in quantities that means you will run out far less and finish way more planes without compromise. Below is a list of the assortments contents.
#2 X5/16" – 100 pcs – Servo Mounting Screws
#2x/16" – 100 pcs – Servo Mounting Screws
#2x9/16" – 100pcs – Servo Mounting Screws
#3x7/16" – 100pcs – Servo Mounting Screws
#3x5/8" – 100pcs – Servo Mounting Screws
#2 Nylon Washers – 50pcs
#4 Nylon Washers – 50pcs
The socket head (left) makes it hard to strip these screws but very easy to install them. Note how the threads on the RTL screws (right) are deeper to hold better and run all the way to the head to be useful in more applications.
Click images to enlarge
All of the screws and washers come in clearly marked heavy gauge re seal-able plastic bags that keep them secure so you can find what you want quickly. The bags also have uneven edges at the opening that makes it much easier to get them open without damaging the bag. I keep all my servo screws in a drawer in my fastener cabinet because I use them for so many non-servo jobs.
All of the Servo Mounting Screws have a deep 5/64" hex socket head that makes them easy to install in many more applications without stripping the head. I magnetize my wrench for these screws which makes reaching into odd places to secure servos and other components much easier. The socket head also makes taking things back out of a plane much easier. I can use my powered DEWALT 8V Max Gyroscopic Screwdriver to install and remove these servo screws which saves time and strain on my overused hands.
Just some of the non-servo uses include securing canopies, windshields (on high wing planes to provide access to the interior), securing panels, servo bay covers and more. The aggressive threading on the Servo Mounting Screws makes them work very well in soft woods with a drop of CA to strengthen the threads. In most cases the point on the Servo Mounting Screws is so sharp I do not have to drill pilot holes. With only moderate pressure the screw bites and threads into the wood easily which also saves a ton of time.
Conclusions
The RTL Servo Mounting Screw Kit should be a no-brainer for anyone who builds RC planes and hates having to run out for a few (way expensive) screws to finish a plane. These socket head screws make locking down lots of components easier, faster and more secure. The hex drive mean you slip less and spend way less time trying to dig out a stripped Philip's type screw.
Best of all the folks at RTL Fasteners understand the concept of bulk buying and the savings they can offer their customers. The RTL Servo Mounting Screw Kit sells for $27.85 (11-30-2016) which is ridiculously cheap considering what we would pay when buying screws like this in the low-count packages at local stores. To sweeten the deal even more, RTL ships quickly with realistic shipping charges because they do not consider shipping costs to be a profit point. In all the orders I and friends have placed with RTL they have never been out of stock on anything. I know it is impossible for anyone to be perfect all the time but RTL seems to be striving for just that level of service.
The next time you need fasteners and don't want to pay a bunch for a few, give RTL Fasteners a try and I think you will see why they are the official FlyingRC.net fastener source. Also, sign up for their email list. RTL Fasteners is constantly special pricing and free merchandise added on to your order to make them even more of a money-saving force in the RC world.
Visit the RTL Servo Mounting Screws web page – Click Here

Have a comment on this Review? –Email Me!