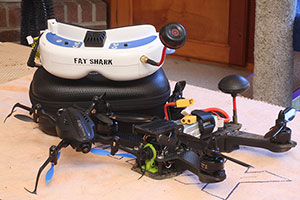 Over the winter I amassed some basic FPV gear for indoor and outdoor quad flying. Now I can focus on moving to fixed wing as well!
Click image to enlarge
FlyingRC.net Is Getting Into FPV
Exploring this relatively new technology should be fun
Text and photos by Tom Hintz
Posted – 2-23-2017

As long term followers of FlyingRC.net will recall I made a short-lived foray into the world of FPV (first person view) flying with a quad. Incessant problems with video signals made that period more frustrating than anything. Certainly, not fun. I sold my FPV gear and moved on.
More recently my flying friends had made significant progress in stabilizing the video signal issue and I began seeing more fixed wing aircraft being fitted with FPV cameras, mainly by one guy at our club but it caught my interest. Adding to the pressure on me to reenter FPV was the consistent flow of email and messages urging me to do just that with FlyingRC.net to generate both FPV-related Review and How-To stories. Even though I suspect about 30% of those are not so secretly hoping I have spectacular on-camera crashes I think there is more than enough support for the effort so hang on, here we go.
It's All About the Signal Stupid
It remains clear to me that the basis for decent FPV adventures is a solid video signal. Using good quality camera and transmitter equipment is of course important. However there has been another development in our area that appears responsible for a major jump in video signal quality and stability. One of our club members designed and built something he calls the Simple Tracker and I will be doing a Review of this system shortly.
The Simple Tracker, as the name suggests tracks the incoming video signal and points a high gain antenna at the model emitting the signal. That goes a long way to keeping the signal strong and uninterrupted. I am not going to try and explain in any detail how it does this but the experience of several people I know that use the system heavily say it works and works consistently. That is good enough for me and I have a Simple Tracker under review right now.
FPV In the House
I already have a Simple Tracker (left) and am working on a Review of it. The Simple Trackers uses two video receivers (right) to produce the remarkably steady images.
Click images to enlarge
This renewed FPV effort began in the winter months so I picked up a Blade Nano QX2 to fly in the house using my FatShark Dominator V3 goggles. It turns out that flying that little quad through a house with the typical people things/obstructions in it can be challenging. But, that is exactly what I needed to get my fingers more quad-savvy. A bit of complexity in the "course" also helped me get used to flying through the goggles. I was judging my quad skills by how many laps I could make around the first floor of our house without having to go pick the Blade Nano QX2 up. Before long I was flying through entire battery charges without having to go get my Blade Nano QX2 even once.
I also bought a Speedix Black Night quad for outdoor flying and have logged a bunch of flights in the yard on nice days. I occasionally took the Black Knight quad to our flying field to try a few gates and more open air flying. I need practice but am getting better. It's all part of the process of getting used to flying FPV.
Fixed Wing FPV
The more recent addition to my FPV effort was the E-flite Opterra Wing that I fitted with a simple FPV (fixed) cam and transmitter. I have made several FPV flights with the Opterra™ 2m Wing but always have a friend on the buddy box in case I really lose it. So far I've not had any problems and I have been able to land it successfully, on our runway no less. I am getting better but it feels as though something is missing.
Pan & Tilt
One thing I noticed right away with the Opterra is that I was trying to look to the side when making turns and trying to set up for approaches. The camera on the Opterra is fixed and I thought it's wide field of view might be OK without pan and tilt. I am sure now that flying FPV would be better with the ability to look around some.
I have flown my Opterra through FPV goggles (left) using this fixed cam on the nose. A typical flight cam package (right) does not weigh much at all and is easy to mount in most planes with some cutting or "tweaking".
Click images to enlarge
It turns out that the same guy who makes the Simple Tracker also has a pan tilt setup so I have one of those now waiting for the HobbyKing Tundra that I have inbound to put it on. This plane comes with a special FPV platform that replaces the windshield/battery cover. That prevents having to cut up the plane to get the camera system in plus it puts the camera on a solid mount in the perfect position to use pan and tilt.
The HobbyKing Tundra will be my FPV test bed for the foreseeable future but I have more ambitious plans for on-board cameras and such if I continue to have success. I'd like to try FPV in a giant scale plane, maybe even a 3D plane at some point. But I think just being able to competently fly a foamy high winger through the goggles will be enough fun on its own for the time being.
Have a comment on this story? –Email Me!