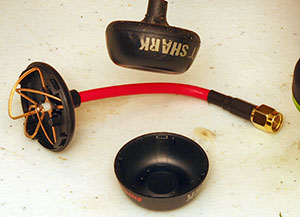 The ImmersionRC 5.8 GHz SpiroNET Antenna Set sems to be at the head of the field in this kind of antenna yet the pricing is mid-pack.
Click image to enlarge
ImmersionRC 5.8 GHz SpiroNET Antenna Set
Reliable connectivity for my FPV quad
Text and photos by Tom Hintz
Posted – 10-28-2015
While studying my friend's entry into the realm of FPV quad racing it became clear that good antennas on both the video transmitter and the headset receiver were crucial for a solid, clear video link. When I cruised some of the FPV forums and vendor sites I noticed that the ImmersionRC 5.8 GHz SpiroNET Antenna Set RHCP (SMA Connector) was high on the popularity list yet reasonably priced. I am a firm believer in buying the best equipment I can afford to sidestep failures and other "complications" saving a buck can cause.
The ImmersionRC 5.8 GHz SpiroNET Antenna Set looks well-made including the connector that has very clean threading, something I noticed that is lacking in some of the bargain-priced versions. Cleanly formed threads tighten easier and stay tight longer, both admirable features in something whizzing around the sky over terrain that would make it impossible to find a fallen antenna, not to mention a downed quad when the video disappeared.
The stalk of the ImmersionRC 5.8 GHz SpiroNET Antenna Set is flexible and remembers a curve well once you form it as needed. The covering on the stalk and junction with the connector is tough and will withstand any normal wear and tear.
The plastic dome at the end of the stalk covers the egg-beater type antenna that enhances its effectiveness in nearly any attitude. Everyone seems sure that there is a dead spot directly off the end of the antenna but I have not been able to experience this loss of signal even though I tried to position my quad to put me in that dead zone. No doubt I will find this dead spot is real at the worst possible moment.
The "egg beater" antenna inside the plastic dome is very effective in all of the directions I can get my quad and myself into.
Click image to enlarge
Conclusions
The ImmersionRC 5.8 GHz SpiroNET Antenna Set seems like a no-brainer addition to any FPV system that you want to stay connected. With a street price of just $39.99 (10-28-2015) I think this is a worthy expenditure that can make your FPV flying more fun and eventually cheaper if it prevents a loss of video at a critical moment. If you are like me, things always seem to go wrong at one of those critical moments.
See the ImmersionRC 5.8 GHz SpiroNET Antenna Set on line – Click Here

Have a comment on this review? –Email Me!