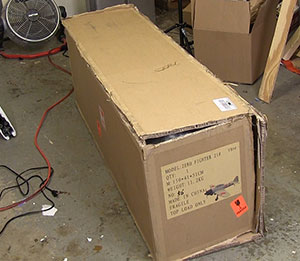 I am always happy to see the thick cardboard surrounding a new model. The only issue was a missing cowl ring that Troy Built replaced very quickly.
Click image to enlarge
ESM 88" Zero Project
Segment 1 – What's in the Box
Text, photos and video by Tom Hintz
Posted - 9-4-2015

Many of you know that I had planned on building a Top-Flite Giant Scale P47 Razorback but the loss of the last major financial sponsor of my sites forced the project to be scaled down somewhat. However, I am happy to be building an ESM 88" Zero which should be a good flying plane. This will still be a relatively expensive build to do properly. If you want to help this project along check out the GoFundMe campaign at the right side of this web page.
The Basics
The ESM (Ever Soaring Models) Zero has an 87.8" (2230 mm) wing span and is 69" (1760 mm) long. The wing has 8.3sq. ft (72.2 sq dm) of area and with the 18.7 lbs (8.5 kg) weight (no retracts) the wing loading is a stout 36 oz/sq. ft (110 g/sq. dm). Warbirds have never been known to be "floaters" and I expect the ESM 88" Zero to fit that flight profile to some degree. I am going to lighten the ESM 88" Zero up where I can safely. More importantly, seeing as this model is rated for 30cc to 50cc engines I decided to hang my DA50R 50cc on the ESM 88" Zero to take a lack of power out of the equation. I know some will all this cheating or "out of scale" but it is my plane and I go for more power when weight vs. wing is an issue.
The wings and horizontal stabilizers are built-up balsa and light plywood covered with a matte finish MonoKote. The fuselage and cowl are made from fiberglass or some similar resin material. These components are not light by any means but not exceedingly heavy either. I did notice that the steel rods they supply for the aileron and flap linkages are heavy and will be replaced with custom made carbon fiber rods and ball links.
All of the components came bagged and most padded (left) within the bags. The instruction manual is a little scary (right) and makes this plane best suited for people with building experience and common sense.
Click images to enlarge
The ailerons and elevator halves are mounted using CA hinges. Those are going away in favor of heavy-duty DuBro flat hinges. The flaps come with flat hinges but those will also be replaced with the heavy-duty DuBros' just for a little more security. The rudder comes with two simple pin hinges and those will be replaced with more rugged DuBro flat hinges just to be safe.
Control of the rudder, elevator and tail wheel are designed for pull-pull setups with steel cables and related hardware supplied in the kit. Then I noticed that the instructions call for simply looping the steel cable through the steel control horns in the tail which means I will be doing it differently because that type of connection is both guaranteed to fail eventually and just dumb all of the time.
Another thing I am not pleased with is that the rudder and tail wheel are separate mechanisms but driven by the same servo. After talking with a friend who has this same plane I will use the stock rudder and tail wheel mechanisms but will operate them through after-market Sullivan solder-type pull-pull cables and DuBro ball links.
Something else that surprised me is that the elevator halves are both operated by a u-shaped steel wire like I used on my old Ringmaster control line planes 40 years ago. Like the rudder and tail wheel the elevators have a steel pull-pull control horn set meant to be driven with steel cable looped through them. The designers at ESM might be short sighted in terms of control durability but they are consistent. Sullivan pull-pull cable components and ball links will be used here also.
I know that I will get email from folks who have used this loop idea and have not had a problem and I will be glad to hear that. I don't trust these connecting ideas and won't fly the ESM 88" Zero without putting in components that I know to be as safe as can be.
Epo-Grip Adhesives
During the ESM 88" Zero build I am going to be looking at a new (to me) line of adhesives. Epo-Grip has been strong in the furniture industry for 30 years or so but remains somewhat of a secret in RC flying. I have a friend who has been using the Epo-Grip epoxies with good results so they will be used for this build exclusively.
In addition to tough, dependable strength the Epo-Grip epoxies are generally thicker, more of a paste that stays where you put it. If you have spent time trying to clean up epoxy runs or getting enough of it to stay on the joint the staying power of the Epo-Grip products will be of major interest.
Coming Up
This is one point in the instructions (left) that I find hard to believe but there it is. My ESM Zero will not have this loop idea in it - anywhere.
Click image to enlarge
The next segment of the ESM 88" Zero build will focus on getting the control surfaces installed. Part of that will be putting in the rudder, elevator and tail wheel hardware that must precede the control surfaces themselves. The horizontal stabilizers also have to go on in this portion of the build so the ESM 88" Zero will start looking more like a Zero right from the start.
I can say that I will be using my DA50R engine from the YAK, HiTec servos and a Spektrum Power Safe receiver. We will look more closely at all of the components used as they are installed.
Stay tuned!
See the ESM 88" Zero web page – Click Here
Have a comment on this Review? –Email Me!