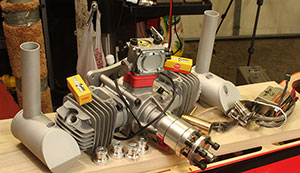 The EME 70 Twin comes with everything you expect plug a pair of NGK spark plugs and a spark plug wrench that you can also use on all those higher buck motors that couldn't afford to include one.
Click image to enlarge
EME 70cc Twin Gasser
High-buck power at regular buck prices
Text, photos and video by Tom Hintz
Flight video by Clark Ponthier
Posted – 12-28-2015
When I bought my first twin cylinder RC gas engine (DLE40 Twin) I was sold on the sound, smooth operation and performance. Though usually a little less powerful than a similarly sized single cylinder engine the twins just seem to fly great. While looking for a twin for my RedwingRC 50cc YAK 55 I heard about the EME 70cc Twin and was impressed with its specs and solid reputation amongst RC'ers who actually fly them. Before long I had a EME 70cc Twin inbound to my shop.
The Basics
The EME 70cc Twin comes with the engine, ignition, mufflers, exhaust gaskets, muffler bolts, standoffs, manual, a handy spark plug wrench and decals. Mile High RC tosses in a pair of NGK CM-6 spark plugs because the know just about everybody uses them anyway – I think with good reason. Some of the internal goodies include Ceramic coated cylinders, NSK main bearings and IKO rod bearings.
The EME 70cc Twin has an RPM range of 1,200 to 7,500 and develops 7.1 HP at 7,000 RPM. All up the EME 70cc Twin weighs 4.75 lbs (2155 G) and that includes the mufflers and ignition module. The Rcexl ignition uses a 6 to 12V battery that you have to come up with. I skipped the battery in favor of an AeroTech Ignition Battery Eliminator Circuit.
Another stand out is that the EME 70cc Twin comes with a genuine Walbro carburetor. I know people who automatically put a Walbro carb on any new engine that doesn't come with one. It wouldn't take long for me to see the benefits of the Walbro carb.
The EME 70cc Twin can use props in 23x10, 24x10, 24x12 (3-blade: 22x10, 22x12, 23x10). They suggest using a prop that loads the engine to run in the 6,100 to 7,100 RPM range. I had a 24X8 Zinger prop on the shelf so that would be pressed into service for the break in. After that I will experiment with other recommended size props to see what the EME 70cc Twin likes best in my RedwingRC 50cc YAK 55.
Physically the EME 70cc Twin has the same footprint of a DLE 55 and shares the prop bolt pattern as the DLE 55 as well. For cowl-stuffing the EME 70cc Twin is only 250mm from plug wire cap to plug wire cap. The spark plugs are set at an angle like want them to be on most other engines.
Here's a couple other things you don;t expect on a "moderately priced" engine. A genuine Walbro carb (left) that didn't need a bit of tweaking to get started and break the motor in. You also get angled park plugs (right) that make this motor fit more planes, many without having to cut big holes in the sides!
Click images to enlarge
The EME 70cc Twin has an 18 month warranty with service work done at Mile High RC. Mile High RC and EME recommend petroleum based oil for break-in so I mixed up a few gallons of 30:1 using the best Husqvarna 2-stroke oil I could find. I have to say that it is getting hard to find pure fossil based oil anymore with most of the available types being blends of fossil and synthetic oils.
In most cases fossil-based oils are preferred for break in because the synthetics literally work too well and can dramatically slow the seating of rings and other parts expected to "wear in" to normal operating condition. I am never in a rush to break a motor in and always try to run my motors just a tick rich but I will follow the EME recommendations. I keep a separate fuel can for break in mixtures to protect the warranty if I should ever need that.
Installation
I expected to have balance issues as well as conflicts with the round cowl on my RedwingRC 50cc YAK 55 when installing the EME 70cc Twin. I was pleasantly surprised to see that the mounting bolt pattern matches the DA50R I had removed and because of the angle spark plugs the EME 70cc Twin fit inside the cowl with no openings in the sides. I did have to open the area around the muffler down tubes slightly. I also made a small hole for access to the carb adjusting screws. I plan on replacing this cowl eventually so the extra holes are not the end of the world right now.
Getting the RedwingRC 50cc YAK 55 balanced on the CG seemed like it could be a problem because of the EME 70cc Twin weight but this also proved to be a smaller issue than I anticipated. I moved the pair of 7.4V, 5000mAh packs back in the fuselage to just behind the electronics platform mounts and the RedwingRC 50cc YAK 55 came out just a tick tail heavy on the recommended CG point. In flight on a 45-dgree up line at about 70% throttle the nose gently curves downward indicating the YAK feels like it is a little nose heavy. Before the next flights I will move the batteries back a little more and continue the testing until the YAK tracks nearly perfectly on that inverted up line.
Start Up
I love the modern electronic ignitions (left) that come with these motors, auto spark advance and all! You will love to hear that the bolt pattern for the prop (right) is the same as most other 50-size (or close motors).
Click images to enlarge
Because starting a new engine is frequently complicated by the throttle servo being set way wrong I had hadn't set up the video camera when I fired the EME 70cc Twin the first time. I closed the choke, I opened the throttle and settled in for a long session of flipping to get fuel to the carb. However I only flipped it three times before it fired. I was shocked to say the least. After opening the choke I set the throttle stick to about half as it seems we are always way off on the bottom end of the throttle setting. I flipped the EME 70cc Twin four whole times before it popped and then started on the next flip.
I had to play with the throttle sub trim and bit to get the throttle trim zeroed out but that was all of the adjusting needed. The EME 70cc Twin settled into a nice idle and stayed right there. I hadn't touched the carb adjusting screws at all. After the EME 70cc Twin got some heat in it the throttle transition from idle up to full speed was reasonably smooth. Because a new motor changes dramatically in how it moves air in and out I left the adjustment screws alone while I get the motor broken in.
Maiden Flights
Like a new airframe, a new engine also needs a maiden flight to see how it responds and to determine if mixture adjustments are needed. Equipped with a 24X8 Zinger prop my RedwingRC 50cc YAK 55 and EME 70cc Twin quickly ran down the runway and lifted off into its first flight. At this point it was clear that my RedwingRC 50cc YAK 55 was not lacking power. I flew it around the field varying the throttle usage and doing touch-and-goes to force myself to give the motor "cool down" periods on approaches.
The next two days were spent putting in a bunch of flights per day and each flight filled with touch-and-goes. Through it all the EME 70cc Twin never missed a beat. It slowed down for a very nice landing speed that my RedwingRC 50cc YAK 55 likes a lot yet had far more power than is needed to get this Yak off of the ground.
Starting the EME 70 Twin (left) has been easy, including right out of the box and ever since! As you read this I am liable to be out at the field doing dozens of touch-and-goes (right) to help break the EME 70 Twin in safely.
Click images to enlarge
Driving the RedwingRC 50cc YAK 55 around on the runway also showed that the EME 70cc Twin was stable at lower rpm settings. Through all of the flights I never felt that the EME 70cc Twin was near quitting. I was purposely going from full throttle to idle quickly during the second day of "break in" when I felt the runway was in reach if I went dead stick. I never had to worry about that as the EME 70cc Twin came down to idle and stayed there every time. When the EME 70cc Twin stopped it was because I flipped the engine kill switch.
Several more days of break-in flying are needed before I will be comfortable enough to really wring the EME 70cc Twin out. Rather than try to cram that testing into this review I will do a second segment where we can see how the EME 70cc Twin responds to breaking in and see what props it likes. Stay tuned!
Conclusions
Because the EME 70cc Twin carries an attractive price tag of just $519.00 (12-28-2015) I was wary of its performance or lack of it. Between the remarkably easy starting, smooth running and obvious gobs of power all of my fears are gone. It hauls my 16lb, 89" RedwingRC 50cc YAK 55 around with ease in whatever direction I point it.
The compact size combined with the angled spark plugs mean that the EME 70cc Twin fit inside of my YAK cowl and will obviously fit inside more cowls than the straight plug competition. Remember that I replaced the DA50R (Da50 being used in another project) that was originally on the YAK with the EME 70cc Twin yet resetting the CG way easy by simply moving the flight battery packs. That means whether you put the EME 70cc Twin in an existing plane or a new build, the 4.75lb weight is not a big issue. There is plenty of easy to access power in the EME 70cc Twin to turn many planes into vertical-loving superstars.
Visit the EME 70cc Twin web page at Mile High RC – Click Here
Have a comment on this review? –Email Me!