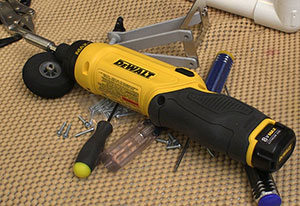 The DEWALT 8V Max Gyroscopic Screwdriver turned out to be very easy to use and even easier on my "getting old" hands!
Click image to enlarge
DEWALT 8V Max Gyroscopic Screwdriver 2 Battery Kit
Economic help for tired hands
Text, photos and video by Tom Hintz
Posted – 10-12-2016
Building our planes is supposed to be part of the fun in RC flying. However, I spent the last 50-some years pulling and pushing wrenches virtually every day while trying to make a living or being involved with various kinds of race cars. If you have worked on cars much you know that there is also the occasional inadvertent "punch" into the side of an engine block when your hand or a tool slips. Now, putting my giant scale planes together means installing the dozens of screws that puts a huge strain on my aging hands. Fortunately, the advancements in battery operated devices offers some tools that seem like they were made just for me and my situation. I'm sure the bit of technology I review here will work for you as well.
The Basics
The DEWALT (#DCF680N2) 8V Max Gyroscopic Screwdriver has some interesting technology built into its slim case. It runs on an 8V MAX battery pack that gives it remarkable run times between charging. You get an AC-powered automatic charger that freshens the pack quickly and does it on its own. The DEWALT 8V Max Gyroscopic Screwdriver weighs just over a pound and in it straight configuration is a tick over a foot long. The two position handle can be set for a long straight driver or it can be twisted into a pistol grip shape when that is easier for the job. As is common these days the DEWALT 8V Max Gyroscopic Screwdriver features a quick-release chuck that accepts the super popular ¼" hex drive speed bits. It also has a 15 position clutch that comes in very handy when driving screws into the different materials we use in RC planes.
The DEWALT 8V Max Gyroscopic Screwdriver can be converted to pistol grip style (left) with the push of a button. The DEWALT 8V Max Gyroscopic Screwdriver uses the popular 1/4" hex speed bits in a tool-free chuck. (right) It also has a 15 position clutch that helps prevent stripped screws or holes in the many materials we use.
Click images to enlarge
When you pull the trigger on the DEWALT 8V Max Gyroscopic Screwdriver an LED "headlight" comes on that makes seeing and engaging fasteners easier even through 60-something eyes. The light stays on for several seconds after the trigger is released to help you find and get on the next fastener. Another group of smaller LED's on the back of the case gives you a graphical indication of the battery condition.
All that is "everyday" technology now but what really caught my eye was the motion-activated variable speed and reversing control. You put the driver on the fastener, pull the trigger and then give the whole driver a twist in the direction you want it to drive in. There also is a motion-activated variable speed control that runs from 0 to 430 RPM. This is another bit of technology that I have no clue how it works but am very glad that it does work!
In the Shop
One of the hallmarks of a good tool is the ease with which it is used. The DEWALT 8V Max Gyroscopic Screwdriver certainly falls into that category and that actually surprised me a little. I wasn't sure how "intuitive" the twisting motion that starts the tool and selects the direction of rotation would be. It turns out that DeWalt apparently did their homework as using the DEWALT 8V Max Gyroscopic Screwdriver is very simple and feels surprisingly natural after just a few uses.
The two position grip that can alternate between a straight tool and a more traditional pistol grip configuration is handy. For most RC plane uses the straight configuration seems to work best for me. However, if I want to go to the pistol grip all I have to do is press the release button, turn the handle and it clicks into place.
The DEWALT 8V Max Gyroscopic Screwdriver comes with an AC charger (left) and one battery pack. Using the DEWALT 8V Max Gyroscopic Screwdriver is dead simple: put it on the fastener, pull the trigger and give it a twist (right) in the direction yo want it to go.
Click images to enlarge
An important feature for the RC crowd is the 15 position clutch. This makes it easy to dial in the level of tightness we need for the huge range of materials we use. I like to set the clutch a little light so that the fastener stops driving before it is fully seated. Then I use a regular hand operated driver to tighten it down with less chance of stripping it out in the lighter, softer woods we frequently use. This is a well-designed clutch as it seems to repeat very well when returning to a favored setting.
Conclusions
The DEWALT 8V Max Gyroscopic Screwdriver is a well-designed, well-built power tool with a bunch of uses in the average RC or any other workshop. Since getting this tool my hands have felt better at the end of a day than they have in years. Letting the DEWALT 8V Max Gyroscopic Screwdriver drive so many of the screws I need to install while building or working on a plane lets me work longer with less pain or fatigue. Being able to control how hard the screws are driven with the clutch means less damage and fewer stripped out screws.
Being cordless is of course nice but the length of time the DEWALT 8V Max Gyroscopic Screwdriver runs on the tiny battery pack is nothing short of amazing. The included charger is dead simple to use and recharges the pack quickly. You can also buy this tool in a package that comes with two battery packs.
Finally, the "headlight" is a big help for me and others with aging eyes. Lighting up the work area makes it much easier to see and engage fasteners. The efficiency of LED lights means that this feature is not seriously impacting the usable run time.
IF you have sore hands at the end of the day you need to check out the DEWALT 8V Max Gyroscopic Screwdriver. I think this is a very nice tool with a surprisingly nice price of $99 (10-12-2016) for the tool, one battery pack, charger and a canvas carry bag. Working on our planes or projects can be much more enjoyable if we let the DEWALT 8V Max Gyroscopic Screwdriver do some of the work.
Have a comment on this Review? –Email Me!