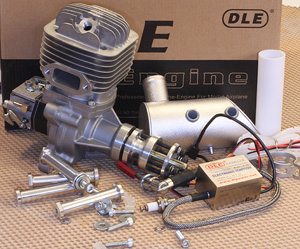 The DLE-61 Gas Engine is an even better value because of the quality parts you get with it that cost extra with many other manufacturers.
Click image to enlarge
DLE-61cc Gas Engine
Affordable durability, power and performance
Text, photos and video by Tom Hintz
Posted – 10-3-2014
After installing a DLE-40 Twin in my Pilot 26% YAK 54 I have been a DLE fan. That experience made choosing a power plant for my new Aeroworks 60cc Freestyle Extra 260 QB-L easy. The toughest part was deciding between the DLE 60 Twin and the DLE-61 Gas Engine. Both engines came with solid reputations and both seemed to have plenty of power but since my funding is limited the extra $100 or so for the twin just could not be disregarded. Also, while researching the DLE-61cc Gas Engine specifications I noticed that the included factory muffler has a smoke nipple. I know this isn't the first time nirvana and smoke have been found in the same thought but in the model aviation world this is a combination that induces a purely emotional high.
The Basics
The DLE-61cc Gas Engine has all the earmarks of precision CNC machining to insure proper fit and component alignment, two things that are critical to performance and longevity. DLE literature says that they increased the size of the crankshaft bearings which again speaks to a long life but also less vibration to mess with your airframe and electronics.
The 61.0 cc (3.7 cu in) displacement comes from a 1.85 in (47 mm) bore and a 1.38 in (35 mm) stroke. This motor cranks out an impressive 6-hp at 7,500 rpm. DLE says the DLE-61cc Gas Engine develops 20.9-lb (9.5 kg) of static thrust at 328 feet altitude and 18.7-lb (8.5 kg) at 1,800 feet altitude. Again, very impressive especially when you consider that the DLE-61cc Gas Engine itself weighs just 2.8-lb (1273 g) and a tick under 4-lb all up with the included muffler 3.9-oz (110 g), ignition module just 3.9-oz (110 g) and mounting hardware.
The suggested propeller range for the DLE-61cc Gas Engine includes 22 x 10, 23 x 8, 23 x 10, and 24 x 8. Depending on your engine/airplane combination you may find props a bit outside of that range to be better suited to your flying style. After trying several props I am currently flying a Vess 24B and while the RPM remains fairly constant my Aeroworks 60cc Freestyle Extra 260 QB-L has lots of vertical and pulls cleanly out of a full stall.
Something else I appreciate about DLE engines is that when you open the box you will find not only the DLE-61cc Gas Engine but components you often pay extra for with many other engine brands. You get the electronic ignition module, muffler, spark plug, standoffs, socket head cap screws and washers for installing the stand offs and motor, protective spiral wire wrap and connector safety clips. You do have to come up with fuel, 2-cycle oil for the recommended 30 to 1 mix as well as an ignition battery (4.8-8.4 NiCd or NiMH, 6.6V LiFe or 2S LiPo pack) and a propeller.
The DLE-61cc Gas Engine comes with their own airplane-specific carburetor that lots of people like, including me. The DLE carb seem to respond to even tiny adjustments making it easier to dial it in for the plane.
Another nice feature is the ability to reposition the throttle arm on the carb on the shaft. When mounting the DLE-61cc Gas Engine upside down as I am going to do the servo should pull the throttle arm to increase speed. That is just a safety factor so if something breaks in the throttle linkage the carb snaps down to idle rather than forcing you to fly high-speed circles until the fuel runs out.
In the Air
The DLE-61cc Gas Engine started with surprising ease the first time; almost too well. I was afraid that the crisp throttle response right out of the box might indicate it being too lean for the initial runs so I richened both screws 1/8-turn and it developed a small burble on the way to full power that sounded reassuringly a little on the rich side. I ran two tanks of gas through it in my yard, varying the throttle and without the cowl to insure max cooling. I did install the cowl before taking the Aeroworks 60cc Freestyle Extra 260 QB-L to the field for the maiden flights.
Throughout the maiden day flying the DLE-61cc Gas Engine performed perfectly. It started easily all day and the idle was surprisingly stable though I did keep it a few clicks of trim above what I considered landing rpm just to be sure it didn't conk out during rapid throttle-off sequences as I explored the tumbling capability of the Aeroworks 60cc Freestyle Extra 260 QB-L. During the dozens of flights made in the first couple of weeks I did have one dead stick when I went from full throttle to idle during a pop up but the Aeroworks 60cc Freestyle Extra 260 QB-L made the glide back to the runway easily with no damage.
During the third week of flying the DLE-61cc Gas Engine started getting hard to start. It finally occurred to me that it was breaking in and had gone a bit lean. I turned both the high and low speed needles out less than 1/8 turn each and starting became easier. I would wind up adding another screwdriver-blade-width turn out to the idle screw and the DLE-61cc Gas Engine has been happy ever since.
The DLE-61cc Gas Engine seems very happy in the Aeroworks 60cc Freestyle Extra 260 QB-L and pulls it around the sky with authority. Right now I have a Vess 24B prop on the DLE-61cc Gas Engine and it and the Aeroworks 60cc Freestyle Extra 260 QB-L seem like a very good and surprisingly versatile combination. I get good vertical, quick takeoffs and I can bail out of a hover straight up. I can't think of much more to ask of a motor.
The only issue I have had with the DLE-61cc Gas Engine is that it blew out part of the exhaust gasket and the muffler loosened up. I eventually removed the gasket altogether and used high temp Permatex to lightly coat the mating exhaust flanges, tightened the screws finger tight per the Permatex instructions and let it sit for an hour. Then the muffler screws were tightened down and the loosening problem is gone.
Conclusions
The DLE-61cc Gas Engine is a great motor that runs reliably and develops good power in flight. I'm not a big fan of test stand performance for anything but comparison. In the air the DLE-61cc Gas Engine is impressive and having just one dead stick in its first 40 flights or so (to date) is remarkable especially since that more than likely resulted from me not keeping up with the carb as it broke in. In the last couple of weeks I have been doing increasingly violent aerobatics with the Aeroworks 60cc Freestyle Extra 260 QB-L and the DLE-61cc Gas Engine has not missed a beat or balked when I needed it to pull hard to get me out of trouble.
An even better point is that the DLE-61cc Gas Engine sells all day for $449.00! (9-15-2014) Making this an even better deal is that it comes with the muffler, ignition and standoffs. Considering the number of old DLE motors I see at flying fields these engines appear to be a great long-term investment that can stretch the real-world budgets most of us have to work with.
If you have a big plane that needs a big motor with a surprisingly reasonable price, check out the DLE-61cc Gas Engine. I now have two DLE engines and can see no reason to change brands if (when) I need another motor. Low price, easy operation and dependability are all important to me and the DLE-61cc Gas Engine lives up to all of those with more than adequate power.
Visit the DLE-61cc Gas Engine product page – Click Here
Have a comment on this review? –Email Me!