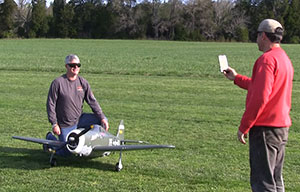 I know this looks all buddy-buddy but in reality, Clark (left) took a bunch of heat from Mike (right) and myself on his way to the maiden of his P-47.
Click image to enlarge
Clark Maidens His Top-Flite Giant Scale P47 Razorback
The FlyingRC.net cameraman steps in front of the camera
Text, photos and (shaky) video by Tom Hintz
Original maiden and pit support – Mike Basmajian
Posted – 4-3-2017

Over the last several years Clark Ponthier has been the defacto cameraman for FlyingRC.net and is responsible for nearly all of the flight video we have presented during that period. Over the same time span, Mike Basmajian has been the other half of my "pit crew" checking my new planes for errors prior to the maiden flights, replacing my tired engine starting arm with his own and backing me up on a buddy box when I did not feel totally sharp during my chemo/radiation treatments.
Needless to say, FlyingRC.net would look very different than it does today without their help. Now we turn the camera on Clark, as he makes his first takeoffs and landings with his new Top-Flite Giant Scale P47 Razorback that he equipped identically to my Top-Flite Giant Scale P47 Razorback.
We Knew He Could Do It
A good amount of time passed between when Clark finished his Top-Flite Giant Scale P47 Razorback and getting weather that made his first attempts at flying the warbird on his own a smart thing to do. Mike had maidened the Top-Flite Giant Scale P47 Razorback earlier and Clark had flown it for a little while it was airborne but today he handled the piloting chores completely on his own. Keep in mind that this is Clark's first giant scale warbird effort so a little apprehension is understandable and frankly warranted.
I must admit that between the original maiden and Clark's solo flights, Mike and I were less than kind to our flying partner. Though good-natured, the berating of each other is a common feature of our weekend morning flying. A string of big winds and cold temperatures grounded Clark's attempts at soloing his Top-Flite Giant Scale P47 Razorback and gave Mike and I time to extend harassment a bit longer. From his first takeoff Clark proved us wrong on all counts. His "I've got skills" bit of tongue in cheek bragging (he does have skills but Mike and I are sworn to not recognize them when he can hear us) were justified this time.
Mike (red shirt) gives Clark (puzzled look on face) some pointers on getting a 20-lb warbird in the air. We let Clark go out on the runway to get behind his Top-Flite Giant Scale P47 Razorback ( right) to make the first takeoff a bit easier.
Click image to enlarge
In the Air
Despite the pressure of making his maiden flights with a very expensive warbird Clark kept his wits about him and handled the plane very well. His takeoffs were a little early a couple of times but he didn't panic and let the Top-Flite Giant Scale P47 Razorback and its DLE61 engine get up to speed in the air. He also showed that he could handle the warbird in the air by immediately adding rolls, loops and other warbird aerobatics to his personal maiden.
These flights were also Clark's first with a 20-pound warbird with flaps and once again he was up to the challenge. Mike and I did our best to talk him through the initial approaches and landings but that helps only so far and the rest falls on the guy with the sticks. Clark did very well on all of the initial approaches and as you will see in the video, made nice landings.
He of course had a few aborted approaches as we all do with a new warbird but Clark got the feel of making approaches with this kind of plane very quickly. One thing that was impressive was when he over-did the elevator on one approach during a gust of wind that helped stand the plane up just a few feet off the ground. Where many of us might have goosed the throttle and tried to land it anyway, Clark gassed it and went around which of course is the smart thing to do.
Conclusions
Clark went home from his Top-Flite Giant Scale P47 Razorback maiden day without damage or questionable setups. His plane flew well and so did he. Admitting all this in public is a little different after several years of questioning everything from each other's flying skills to things that can't be repeated in mixed company or other RC folk. In the end, we found out that Clark really does have skills and this time we have to admit it. This time. The next time we meet at the flying field all bets are off and the good-natured ribbing resumes. It just would not be a flying weekend without it and my two friends that make every trip to the flying field a little better.
Have a comment on this story? –Email Me!