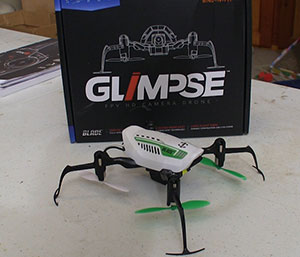 The Blade Glimpse FPV BNF is a bargain way to get into FPV flying, indoors or out.
Click image to enlarge
Blade Glimpse FPV BNF
Fly by Wi-Fi cell phone?
Text, photos and video by Tom Hintz
Posted - 12-8-2016
The prospect of an extended period of home-bound recovery from a serious illness had me thinking about preserving my flying skills. Going to the flying field with any regularity is not likely during this recuperation so having something to fly in and around the house sounded like the next best thing. I needed something small, electric and capable of holding my attention during this "down" period. I recalled a friend mentioning that he was flying a small FPV quad around inside of his home using a big screen TV as the FPV "goggles". That sounded like fun and a challenge; both of which should help hold my attention.
The Blade Glimpse FPV BNF
The first thing I noticed is that lots of the smaller quads were out of stock when I began my search. Also, the ones that used a video receiver that I could adapt to a big screen TV were both more expensive and many were out of stock, something that would be a common situation in my search. Then I came across the Blade Glimpse FPV BNF (BLH2280). Those who know me will be surprised that I bought anything Blade as I had sworn off their small to medium helicopters as super-effective parts-selling-machines. I had been hearing some decent things about the small Blade quads so thought I would take a chance.

My first error was thinking that I could find a cheap receiver for the Blade Glimpse FPV BNF Wi-Fi signal on which it sent the video. I suspect that is still possible but at considerably more money than I was prepared to spend on this project. The Blade Glimpse FPV BNF uses an IPhone app that connects the quad and your cell phone which is clamped in the included mount on your transmitter.
Quad Basics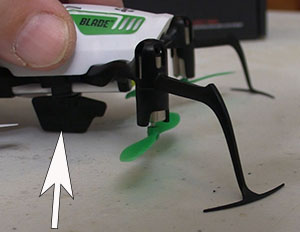 The fin in the center limits how much flex the legs go through to protect the blades.
Click image to enlarge
No doubt the all up flying weight of 1.83 oz (52g) will itself prevent lots of potential damage through a simple lack of inertia. The overall size of 50mm tall by 160mm long and 160mm wide means it can fly in confined areas which should come in handy in a house designed for full scale people. Plus, there is the built-in obstacle course presented by the cat furniture, cat toys…….and the potential assaults on the quad by the cats themselves who just might be interested in this new member of the household.
The Blade Glimpse FPV BNF motors are brushed 8mm units that spin 60mm props. An extra set of props is included. The motors are pressed into cups in each of the plastic legs and have plugs rather than solder joints to make replacement fast and simple. Another plus is that the Blade Glimpse FPV BNF comes fully assembled including all wiring and the FPV system. The Blade Glimpse FPV BNF also uses the Blade SAFE® technology that makes flying it easier for those of us lacking quad skills as well as using an aging set of thumbs.
The Blade Glimpse FPV BNF is built around a thin, flexible plastic frame. Because of the light overall weight of the Blade Glimpse FPV BNF, flexible turns out to be a good thing if durability is of interest to you. The legs are so flexible that Blade had to add a center fin that limits how far the airframe flexes downward on landing to prevent the props from touching down also. The good news is that the designers have balanced the always opposing needs for light weight and durability. The Blade Glimpse FPV BNF may not be bulletproof but it is surprisingly close. I have had several "professional over control situations", many at speed and the Blade Glimpse FPV BNF continues to function just fine.
If there is a problem with the chassis of the Blade Glimpse FPV BNF it is the angle at the ends of all four legs. I imagine the angle is to build in some shock absorption into the legs but what happens when you run into anything flat is that the Blade Glimpse FPV BNF wants to flip up flat against the surface and then crash downwards. Despite having crashed like this many times my Blade Glimpse FPV BNF remains in what appears to be perfect condition. While it is annoying to have the Blade Glimpse FPV BNF flip up and crash whenever we run into a flat surface, it is equally annoying for us to try and blame Blade for what happens when we fly the Blade Glimpse FPV BNF into a flat surface, repeatedly.
Power for the entire Blade Glimpse FPV BNF comes from a 500mAh 1S Li-Po flight battery (USB charger included) and produces 6 to 8 minute flights. I limit my flights to 5 minutes and have a steady 30% of battery capacity remaining after the flight.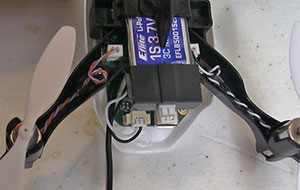 The motors just push into sockets in the legs and plug in to eliminate soldering. The motors have different colored wire to make getting the correct rotation motor the first time easier.
Click image to enlarge
Camera
The Blade Glimpse FPV BNF is equipped with an integrated HD camera that shoots high-definition, 1280 x 720p video as well as 1.0MP photos. An on board 8GB Micro SD memory card and SD adapter are included. I was surprised to see that the SD card is a ScanDisk piece and not some generic label cheapie. The camera's transmitter has an effective range of 80-feet (24m) and downloads 480p via a Wi-Fi downlink on the 5.8GHz band to multiple "smart-devices" using a special app that you download for free. The video recording starts and stops using an on-screen button within the app plus still images are captured sing its own button on the app screen. The camera lens can be adjusted up and down several degrees to compensate for how fast you fly or where you want to be looking. Unfortunately, there is no obvious way to tighten the camera to prevent accidental movement during crash events.
You are able to take videos and still photos from the Blade Glimpse FPV BNF as it flies. You can then download those videos or images by taking the mini SD card out to put in your computer or you can use the included cord to connect the Blade Glimpse FPV BNF to your computer and download the videos and/or photos directly.
The cell phone mount attaches to the neck strap lug on your transmitter. A single hex head bolt locks this mount in place firmly. The portion of the mount that captures the cell phone can be tilted through a wide range of movement to accommodate how you want to view the screen. In all of my testing the phone remained in the grip of the holder. However, I expect the phone could be knocked out of the mount easily if you get careless in how you handle the transmitter with the phone in place. That one would be on us.
Flight Testing
I should note that my quad piloting skills are rudimentary at best and should cause no one to write home nor alert the media. I feel skill level is appropriate though since many of those buying the Blade Glimpse FPV BNF will be first time quad pilots so my experiences in this review will be more representative of what they can expect with their Blade Glimpse FPV BNF.
The Blade Glimpse FPV BNF flies very well out of the box. That's a good thing as the instructions are typical of the far Eastern minimalist take on everything but the legal verbiage that clutters most instruction manuals these days. The only trick we found was to find a truly level (to the world) spot on which to let the Blade Glimpse FPV BNF initialize and set its internal gyros. You can make fine flight changes using the trim tabs on the radio.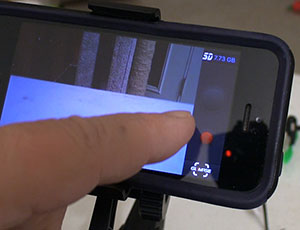 The buttons for start/stop video and to take photos are in the free app.
Click image to enlarge
One of the more common complaints I have seen regarding the Blade Glimpse FPV BNF is the lack of LED lights. The small size of the Blade Glimpse FPV BNF and its similar appearance from most angles makes flying it a bit tough especially when you get it out 30 feet or better. Some directional LEDs would have been a nice touch even I they impact the overall flight time by a few seconds.
For many pilots flying the Blade Glimpse FPV BNF itself is far less difficult that trying to fly it while watching the cell phone screen. To be sure, there is a learning curve when you start flying using a little screen or goggles to see through. I can say that over a dozen flights or so I did get better and felt far more comfortable watching the little screen in front of me rather than watching the Blade Glimpse FPV BNF directly.
While the Wi-Fi connection remained solid once established I was unable to get the IPhone and Blade Glimpse FPV BNF to hook up without opening the menu in my cell phone and manually connecting the phone to the Blade Glimpse FPV BNF -generated Wi-Fi. There may be a way to make this connection more automatic but I was not able to find it.
I think it is safe to say that the Blade Glimpse FPV BNF has all of the flight capabilities needed to be flown using the cell phone to see where you are going. The biggest variance is going to be with the pilot. Some of us will be way better than others and I don't know how to predict which you will be without getting a Blade Glimpse FPV BNF and trying to learn to fly it.
Conclusions
The Blade Glimpse FPV BNF certainly is a capable quad with a remarkably durable chassis. Its flight systems that help the pilot in keeping it going where we want are more than adequate and work in the background. While the Blade Glimpse FPV BNF is no 3D machine it is not touted to be one. What it does best is fly around inside on most days and outside in a dead calm and act like a camera platform in either case. You can make decent movies with the built-in camera when you are flying through the cell phone or line of sight.
With a street price of $119.99 (12-8-2016) the Blade Glimpse FPV BNF is not a budget-breaker but does buy you a durable quad with which to learn this type of flying. Then you can add flying in the FPV mode to further the challenge and the fun in roughly equal parts. The Blade Glimpse FPV BNF is fun to fly and being able to do it in the house gives us lots more comfortable flying days no matter what part of the world you live in.
If the idea of FPV flying interests you, consider the Blade Glimpse FPV BNF as your entry machine. It is easy to fly and durable, two very desirable traits in a "first quad" to give you more stick time during the learning process.
Visit the Blade Glimpse FPV BNF web page – Click Here

Have a comment on this Review? –Email Me!